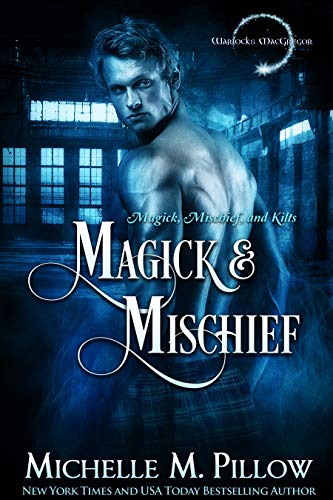 03/10/2022
Magic, Mischief & Kilts!
A modern-day Scottish warlock paranormal romance by NYT Bestselling Author Michelle M. Pillow.

Kenneth doesn't have room for anything in his life beyond his responsibilities as an immortal warlock and a father. Being a single dad is difficult, especially when that toddler is more powerful than his entire magickal family combined. Standing against forces who want nothing more than to harness his daughter's power takes focus, dedication, and the willingness to put his life on hold. So when the mysterious yet beautiful Andrea appears on his doorstep, he can't help but distrust her.
For two years, Andrea Breaux has been running from a dangerous supernatural force. She's learned to stay on the move, to never allow grass to grow under her feet, and to be suspicious of everyone and everything. When she finds herself in a house surrounded by magicks and a powerful child who would rather she not leave, Andrea isn't sure what to do or if she even wants to go. But staying puts everyone at risk, especially the Scottish hottie in a kilt, Kenneth MacGregor.
Warning: Contains yummy, hot, mischievous MacGregors who are almost certainly up to no good on their quest to find true love. And Uncle Raibeart.
A Warlocks MacGregor Novel
Contemporary Scottish Magic Paranormal Shifter Romance