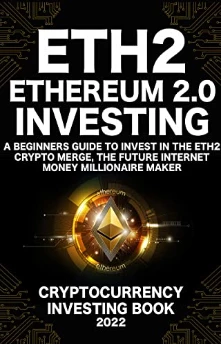 07/10/2022
Then keep reading…
Do you know "experts say it could grow in value by as much as 400% in 2022." Time.com May 26 2022
Most people don't have a clue about Ethereum 2.0, and that's okay!
This Ethereum 2.0 Investing book is a Guide to investing in The Merge of Ethereum 1 and 2 Cryptocurrency (eth2).
Ethereum 2.0 is the next big step for the world's second-largest cryptocurrency. With Ethereum 2.0, you can be part of the future of blockchain technology – a future that is poised to change everything we know about finance, business, and communication.
In this Ethereum 2.0 Investing book you will discover:
- Secrets to be one of the FIRST people to understand this revolutionary technology.
- learnings how this cryptocurrency will work before it EXPLODES in value.
- You will be on the forefront of a revolutionary CHANGE in the world of FINANCE.
- You'll discover how this NEW technology will make your life EASIER.