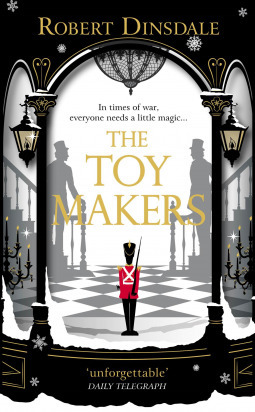 Blurb: 'It is 1917, and London has spent years in the shadow of the First World War. In the heart of Mayfair, though, there is a place of hope. A place where children's dreams can come true, where the impossible becomes possible – that place is Papa Jack's Toy Emporium.
For years Papa Jack has created and sold his famous magical toys: hobby horses, patchwork dogs and bears that seem alive, toy boxes bigger on the inside than out, 'instant trees' that sprout from boxes, tin soldiers that can fight battles on their own. Now his sons, Kaspar and Emil, are just old enough to join the family trade. Into this family comes a young Cathy Wray – homeless and vulnerable. The Emporium takes her in, makes her one of its own. But Cathy is about to discover that while all toy shops are places of wonder, only one is truly magical…'
_______________________________________________
I'm still confused as to what I thought of this book, so if this review is a bit all over the place, please bear with me. It took me the best part of 2 months to finish this book and this is because once I read the first few chapters, I lost the desire to sit down and read it.
I was so sure I was going to love this book, because I love everything to do with Christmas and it was full of magical Christmas vibes, but unfortunately I was left disappointed.
Cathy Wray turns up at the emporium looking for a roof over a head and a place to work. She's 16 and pregnant and is desperate. The depressing nature of Cathy's situation is juxtaposed by the Emporium. It's full of toys that are magical…. a Wendy house that is as big as a real house on the inside, a castle in the clouds and patchwork dogs that can play, learn tricks and feel!
The second part of the book felt like it was an entirely different story…. It made a dark nature to it, and I felt that I was waiting and waiting for something absolutely massive to happen…. but it didn't.
I'd also say that the book is a bit too descriptive for me. Half the time I skimmed through the long descriptions of the Emporium.
As a book worm it upsets me to say this… but I think this would be better as a film than it is a book. Maybe one day I'll find out if I'm right or not, eh!?