Happy Tuesday guys!
I cant quite believe that its the first Top 5 Tuesday of 2018! Top 5 Tuesday is hosted by Shanah over at Bionic Bookworm and this week the topic is Top 5 Books on your Bucket list for 2018!
---
The Girl In The Spiders Web – David Lagercrantz
Blurb: She is the girl with the dragon tattoo—a genius hacker and uncompromising misfit. He is a crusading journalist whose championing of the truth often brings him to the brink of prosecution.
Late one night, Blomkvist receives a phone call from a source claiming to have information vital to the United States. The source has been in contact with a young female superhacker—a hacker resembling someone Blomkvist knows all too well. The implications are staggering. Blomkvist, in desperate need of a scoop for Millennium, turns to Salander for help. She, as usual, has her own agenda. The secret they are both chasing is at the center of a tangled web of spies, cybercriminals, and governments around the world, and someone is prepared to kill to protect it . . . 
I NEED to get around to reading this year! The Millennium series is my all time favourite series. This is the 4th book in the series and the problem is, it came out a good few years after the 3rd book…. And I can't really remember what happened. So, I need to refresh my memory with the first 3 books before I attempt this one.
---
Another Day in the Death of America: A Chronicle of Ten Short Lives – Gary Younge
Blurb: On an average day in America, seven children and teens will be shot dead. In Another Day in the Death of America, award-winning journalist Gary Younge tells the stories of the lives lost during one such day. It could have been any day, but he chose November 23, 2013. Black, white, and Latino, aged nine to nineteen, they fell at sleepovers, on street corners, in stairwells, and on their own doorsteps. From the rural Midwest to the barrios of Texas, the narrative crisscrosses the country over a period of twenty-four hours to reveal the full human stories behind the gun-violence statistics and the brief mentions in local papers of lives lost.
This has been on my TBR for what feels like FOREVER. Despite my many hints, no one bought me it for Christmas, so at some point this year I'm going to purchase it and finally get around to reading it!
---
4 3 2 1 – Paul Auster
Blurb: 'Nearly two weeks early, on March 3, 1947, in the maternity ward of Beth Israel Hospital in Newark, New Jersey, Archibald Isaac Ferguson, the one and only child of Rose and Stanley Ferguson, is born. From that single beginning, Ferguson's life will take four simultaneous and independent fictional paths. Four identical Fergusons made of the same DNA, four boys who are the same boy, go on to lead four parallel and entirely different lives. Family fortunes diverge. Athletic skills and sex lives and friendships and intellectual passions contrast. Each Ferguson falls under the spell of the magnificent Amy Schneiderman, yet each Amy and each Ferguson have a relationship like no other. Meanwhile, readers will take in each Ferguson's pleasures and ache from each Ferguson's pains, as the mortal plot of each Ferguson's life rushes on.'
I came across this book when it was one of the nominees for the Man Booker Prize 2017. It's been on my TBR list since then, but I'm determined to get around to reading it this year.
---
The Hate U Give – Angie Thomas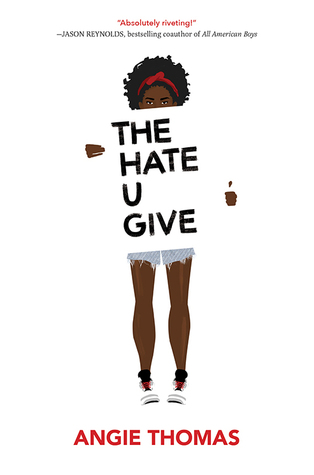 Blurb: Sixteen-year-old Starr Carter moves between two worlds: the poor neighborhood where she lives and the fancy suburban prep school she attends. The uneasy balance between these worlds is shattered when Starr witnesses the fatal shooting of her childhood best friend Khalil at the hands of a police officer. Khalil was unarmed.
Soon afterward, his death is a national headline. Some are calling him a thug, maybe even a drug dealer and a gangbanger. Protesters are taking to the streets in Khalil's name. Some cops and the local drug lord try to intimidate Starr and her family. What everyone wants to know is: what really went down that night? And the only person alive who can answer that is Starr.
I've heard such good things about this book but for some reason, I have got round to reading it. So hopefully 2018 will be the year I read it!
---
All Rights Reserved – Gregory Scott Katsoulis
Blurb: In a world where every word and gesture is copyrighted, patented or trademarked, one girl elects to remain silent
Speth Jime is anxious to deliver her Last Day speech and celebrate her transition into adulthood. The moment she turns fifteen, Speth must pay for every word she speaks, for every nod, for every scream and even every gesture of affection. She's been raised to know the consequences of falling into debt, and can't begin to imagine the pain of having her eyes shocked for speaking words that she's unable to afford.
But when Speth's friend Beecher commits suicide rather than work off his family's crippling debt, she can't express her shock and dismay without breaking her Last Day contract and sending her family into Collection. Rather than read her speech—rather than say anything at all—she closes her mouth and vows never to speak again, sparking a movement that threatens to destroy her, her family and the entire city around them. 
Well, I bang on about this book enough, so it just had to be on this list, right!?!? I honestly can't wait to get stuck into this!